I notice people sneaking into my blog after googling her name. When my friends ask about the pretty young model gracing the featured contents of this site's home page and my portfolio pages, I'm almost certain it's Nicole they're talking about. Wherever she goes, she's bound to capture attention without asking for it. For someone as gorgeous as Nicole Marie Floirendo, it's a given. But don't be fooled into thinking that beauty is all there is to her. When God showered the world with blessings, it seems that this 5'6" tall lass brought out a huge bucket to catch her share.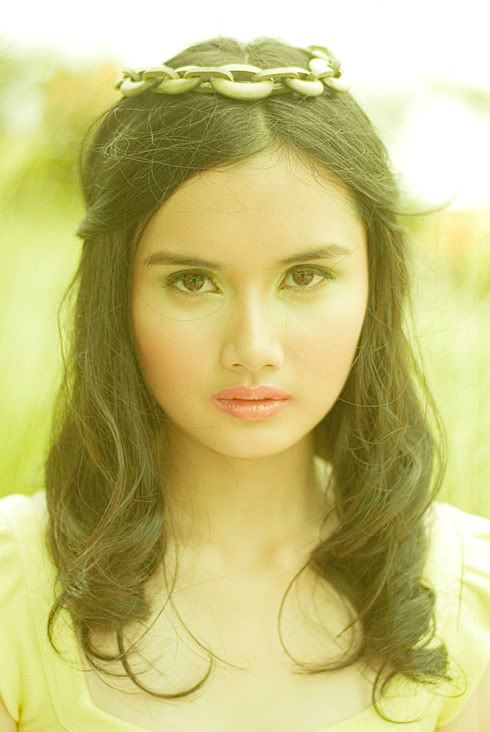 Nicole, or Nikki to her family and friends, is the epitome of beauty, brains, and talent. Her reticent nature and patrician features could mistake her for a snob. Truth is, she's just a shy, sweet girl who warms up when in the company of good friends. An incoming sophomore of BS Psychology at a prestigious university here in Cagayan de Oro, she's bent on becoming a doctor someday. She admits science wasn't her strongest area in high school but she believes in turning weaknesses into strengths. She confronts fears by facing them  instead of showing signs of intimidation. At 17, she has a couple of goals which she plans to achieve through hell or high waters.
The Living Doll
Nicole started modeling at the age of 12 when her uncle who works in the marketing department of SM and is presently her manager, invited Nicole to join one of the mall's runway events. Since then, designers and photographers took notice of her exceptional model profile and considered her a favorite during fashion shows and photo shoots. I got to doll her up the first time in 2008, in a shoot which was held in the city's public wet market, contrasting glamour from the market life. Guards were hired to protect her and 2 other models from getting mobbed by the adoring crowd.
Asked if she intends to take modeling to a higher level by going to Manila, she asserts that she has to finish schooling first. As advised by her parents, she only accepts gigs that don't come in conflict with her studies. However, if offers (preferably international stints) come in that are too good to pass up, she's open to options, which are after all doors which could open opportunities for traveling. Visiting different places and learning diverse cultures happen to be in her itinerary when she finishes college.
Presently, she wants to enjoy modeling as a pastime, along with the perks that come with it.She considers having more friends as the most fun part of being a model. She thinks Victoria Secret models, especially Alessandra Ambrosio, are cool, pointing out the grace and effortless poise of Alessandra when doing the catwalk.
On Fashion and Style
In contrast to the extravagant clothes that she always wear during shoots, Nicole prefers a comfy get up when she hangs out with friends. She has a thing for colored plain tees matched with jeans or shorts and flipflops.
The Soprano Within
Hearing her belt out the high notes will surely bring you goose bumps. Her ethereal beauty is perfectly matched with an angelic voice. She dabbles into theatre arts, which started from choral singing. She was a shy kid who never sang in public til high school.
She remembers getting shaky when she first auditioned for the school choir- an image far fetched from the confident aura of Nicole essaying the role of Helen Chao in her school's production of the Flower Drum Song.
Her confidence soared when her teachers started assigning solo parts for stage plays and other school activities. Now without qualms, she sings at parties for friends, leaving the guests awestruck each time.
She has fallen in love with music, that given the choice between modeling and singing, she'd stick it out with singing which gives her the better outlet for self-expression and stress-relief. Aside from Lea Salonga, she looks up to Sarah Brightman, whose voice, according to Nicole, is inspiring and breathtaking.
Beauty Regimen
Nicole has a flawless complexion needing very little foundation when I did her makeup. Does she have a secret for maintaining it? She shares that besides the basics of washing the face, she doesn't put a lot of product on her skin. However, she doesn't skip the part of putting sunblock when going out.
Advice To Aspiring Models
If you wanna follow her path and be a model too, she's got some advice for you: Nicole encourages you to follow your dreams, but leaves a reminder that you should finish your studies, as she says that "it is the ultimate treasure that can last you a lifetime."
Photos by Dustein Sibug
Hair and Makeup by: The MUA in Scrubs

number of view: 6574
She is one very important model in my stint as a make up artist. When I got back to CDO after my hair and makeup schooling in Manila, I was ecstatic to know that I will be working with her for my first shoot in the city. Along with ace photographer Dustein Sibug, it was a powerhouse of a team I was so proud to have collaborated with.
Natasha just won the 2nd runner up title of Miss Kagay-an 2007 when I met her. Her British descent and twang could mistake her as an intimidating presence. On the contrary, she's a very pleasant person to get to know. Goofy and outspoken, Natasha Mills is much more than what her dynamic poses tell us.
Up Close and Personal
Natasha is a stunning 18 year old who hails from South London, England. Born to a Filipino Mom and British Dad on August 17, 1989, she moved to CDO almost 3 years ago to study. She is currently an HRM sophomore in one of the prestigious universities in the city. If her face looks familiar to you, that's because she has graced billboards for her alma mater. She was also part of her school's TV commercial.

The Chameleon
She started modeling in England for SKALLYWAGS children modeling agency. Her career in the Philippines took off after winning in Ms. Kagay-an Tourism last year. The 5 finalists had a fashion photoshoot. After then, it was master lensman Dustein Sibug who noted her potentials and invited her to more fashion pictorials. Her outstanding skills and professionalism brought her more projects from as far as Cebu, for Dustein's workshops. The photographers loved her ability to transform, setting different looks and moods that the cameras loved to play with. Hence, gaining herself the title of the chameleon.
Modeling Is Her Passion
Despite the scorching heat of the sun or the heavy pour of rain, nothing stops Natasha from giving her best as a model. She embraces modeling with so much fun and passion that you will not hear a single complaint from her when working, even in the most adverse environment. Just fill her up with a C2 Lemon drink or a hot choco on a cold day, and her energy will keep soaring til you drop. Definitely no prima donna, this lady.
Fashion Icon
She would wear anything that Jennifer Lopez would wear, sexy but elegant. That explains the Chuck Taylor heels she once wore in our shoot. When she saw JLo in similar shoes, she didn't hesitate getting the pair she eyed at Limketkai Mall.

Natasha, the Makeup Diva
There's this other side to her that not many people know, her talent in makeup. She has penchant for L'oreal and Maybelline cosmetics and Bourjois eyeshadows. The other contestants of Miss Kagay-an were glad to have Natasha around. Her skills were put to good use in making her competitors look as glamorous as her when they were pressed against time.
When she isn't satisfied with her makeup during shoots, she revises them herself. Luckily, she has not changed any of my works but she does suggest colors and tricks which she thinks would help pull off the look better. There's a lot more pressure in doing makeup for someone who knows the art but I find it actually helpful to have someone who can give opinion on what I'm doing. Getting her thumbs up mean a lot to me.


Beauty Secrets
How does one achieve a beautiful face like hers? She shares that a smile is the most inexpensive beauty tool. "Enjoy your blessings in life. Take care of your skin and body," she adds.
Wanna be A Model like her?
This is what she advises women who want to give modeling a shot, "study… study modeling, study good strong poses, study emotions in your face…study your eyes- photographers love it when they see a story behind them. Be aware of your attitude, you shouldn't get a big head just because you got many calls for upcoming shoots. Beauty isn't just on the outside but the inside too," quips the humble chameleon.
Photographers: Enzo Kho, Dustein Sibug, Maurice Bagayna
Makeup by: Grace Pamparo-Bandoy

number of view: 1430