About a month ago, I received an email from a representative of  Meg Magazine asking for an interview for an upcoming feature on beauty bloggers. I was given a set of questions but I was not able to answer them due to my crazy schedule and an ongoing acupuncture course. I brushed it aside, thinking there would be other beauty blogs that are equally deserving of the feature, so it wouldn't be a loss for the mag  if I wasn't included in the article.
To my surprise, I got a text from a fellow doctor, who's now based in Manila, that she read a write-up about me on Meg Magazine, and that her picture was included on the page. I learned that the resourceful writer, Ms. Maviel Gonzales, gathered information and pictures from my blog to make up for my lack of response. After days of waiting for Meg October issue to hit the stands here in CDO, reading through the article, I commend Ms. Gonzales for her research skills and for coming up with a nice review on this blog. Thanks to her for choosing "The Doctor is vaIN" as one of the highly recommended beauty blogs, it was like winning at the Philippine Blog Awards all over again.  My apologies to her, too, for being a pain in the neck for not granting the interview.
It was certainly a dream come true for the MUA In Scrubs to be featured alongside beauty experts like Xeng Zulueta, Marie Calica, and EarthlingGorgeous. The October 2010 issue of Meg Magazine with Rhian Ramos on the cover  is fully packed with  the essential elements that beauty junkies would surely love. Learn about Make -Up Schools in the Metro, the low-down on Cosmetic Surgery, tips on how to jumpstart a Career in Makeup Artistry,  products that win the experts' thumbs up on Meg 2010 Beauty Awards, plus top trends in beauty and fashion! If you haven't bought a copy yet, be sure to grab one now, not because I'm in it but  because this issue is the bomb!
Meg Magazine, a top source of fashion, beauty and style is published monthly in the Philippines by the Mega Publishing Group.  Get your October 2010 issue now before copies run out. Sold for Php 95.
I uploaded some snippets from the current issue. Copyrights belong to Meg Magazine.  The models appearing on my feature are Dr. Cherry Ann Co of Dermclinic, and the painted one is my niece, Chinchin. Credits to Dustein Sibug for my wedding pic and Andrew Reyes for Dr. Cherry Ann Co's shot. Shououts  to Charry of  Eye Candy blog for providing me a scanned copy of the feature when the mag wasn't available here in CDO yet.

number of view: 6763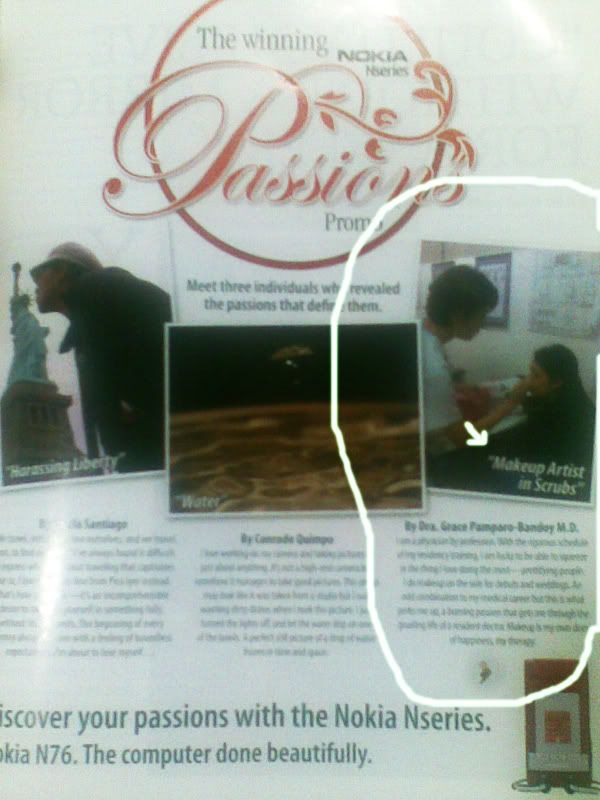 Make Up Artist In Scrubs stands for passion. It was my winning entry to the Nokia promo last year, through Summit publications (publisher of leading magazines like Cosmopolitan, Marie Claire and Preview). I won, along with two other contestants who got chosen out of the many entries that were sent. The prize was a Nokia N76 phone for each of us. Cool, huh?
We had to send in a photo and a short description of our passions. My passion was makeup artistry. The photo was me doing makeup while I was on duty that time as a 3rd year Radiology resident. My willing victim was one of our interns, Donna. They dropped by the radiology office, since I was through with my xray plate readings and it wasn't a toxic duty, I took out my makeup brushes, mineral makeups and started dolling up Donna.
I stopped from my residency training for almost a year now. No, I didn't get fired for my obsession  with makeups (lol!). It had to do with my health issues. Stress doesn't help kick off my cancer cells. It feeds it further. Along with the other work hazards, I decided I still wanted to live and hence resigned. It was a difficult decision but I had to choose my health. Makeup still continues to be my art form though I'm not doing it full time. I still work as an MD primarily, without 24 hour duties this time. This gives me the luxury of doing things that I love, including makeup, writing, music and being a wife to my wonderful husband. This is my idea of the good life.

number of view: 4510