About MUA In Scrubs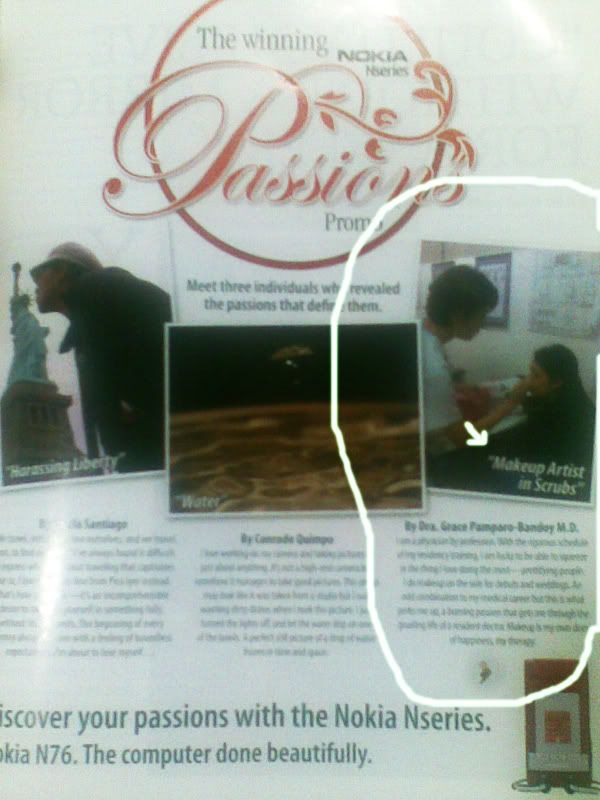 Make Up Artist In Scrubs stands for passion. It was my winning entry to the Nokia promo last year, through Summit publications (publisher of leading magazines like Cosmopolitan, Marie Claire and Preview). I won, along with two other contestants who got chosen out of the many entries that were sent. The prize was a Nokia N76 phone for each of us. Cool, huh?
We had to send in a photo and a short description of our passions. My passion was makeup artistry. The photo was me doing makeup while I was on duty that time as a 3rd year Radiology resident. My willing victim was one of our interns, Donna. They dropped by the radiology office, since I was through with my xray plate readings and it wasn't a toxic duty, I took out my makeup brushes, mineral makeups and started dolling up Donna.
I stopped from my residency training for almost a year now. No, I didn't get fired for my obsession  with makeups (lol!). It had to do with my health issues. Stress doesn't help kick off my cancer cells. It feeds it further. Along with the other work hazards, I decided I still wanted to live and hence resigned. It was a difficult decision but I had to choose my health. Makeup still continues to be my art form though I'm not doing it full time. I still work as an MD primarily, without 24 hour duties this time. This gives me the luxury of doing things that I love, including makeup, writing, music and being a wife to my wonderful husband. This is my idea of the good life.

number of view: 4512